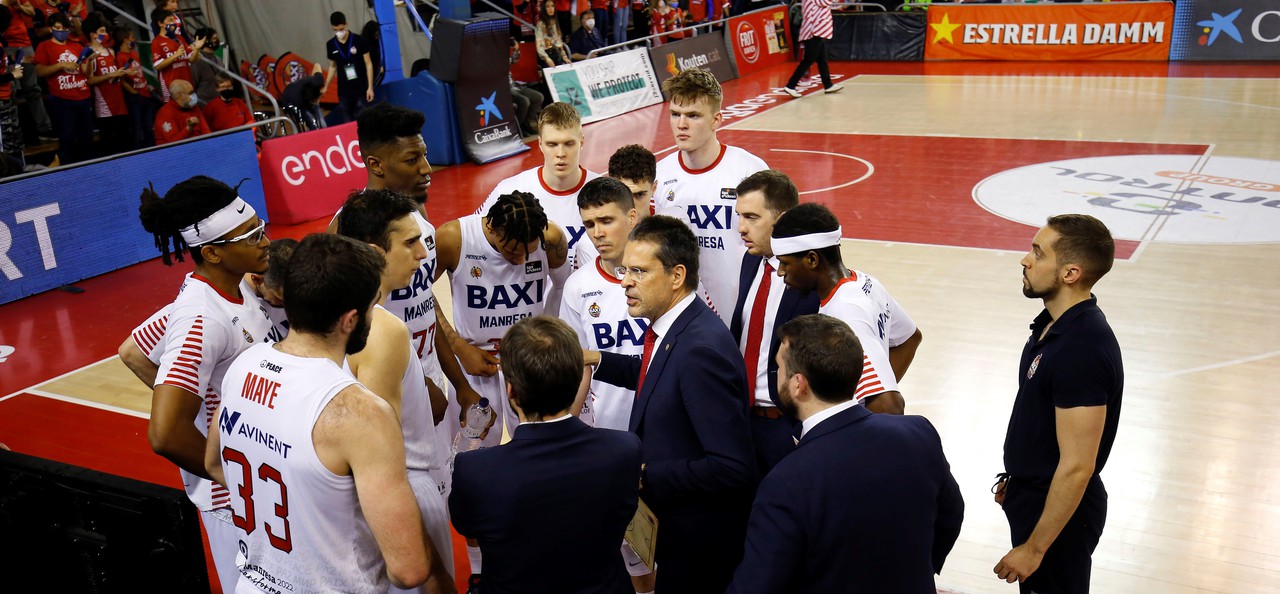 BAXI Manresa wants to follow the right path in Santiago
This Saturday at 18:00 (M+Deportes1), the Manresa team will face Obradoiro in an attempt to win their 18th Endesa League title.
Thursday 31 of March of 2022 at 15:47
BAXI Manresa travels to Santiago de Compostela to face Monbus Obradoiro, in the match corresponding to the Gameday 27 of Lliga Endesa. The team from Galicia are in the sixteenth place with a balance of 8 wins and 17 losses. In the first round game, the team from Manresa won 104-84.
After defeating MoraBanc Andorra, BAXI Manresa has had a week to prepare for this match. The team wants to win to stay at the top of the table, and to arrive with the best possible sensations for the first game of the BCL quarter-finals on Tuesday. First of all, they will have to overcome Obradoiro, who need to win and play in an always complicated court. Pedro Martínez will not be able to count on Dani Garcia, who has a fibrillar rupture in the biceps femoris of his right leg and will be out for 4 weeks. The coach said that Bako is «better every day» but it is not known yet if he will be part of the expedition.
The Monbus Obradoiro, coached by Moncho Fernández, is a complete team that, above all, stands out for its center couple formed by Laurynas Birutis and Henry Ellenson . Of the Santiago de Compostela team, it is worth highlighting the top scorer, the shooting guard Kassius Robertson, and Birutis with 14.1 and 13.2 points per game, respectively. In the last match, Obradoiro lost the Galician derby against Río Breogán (80-78).
Pedro Martínez spoke to the press before Saturday's game. The coach explained that «Bako is getting better every day but we don't know yet when he will be able to play, we hope it will be soon; they are a rival that we have difficulties to play against; I admire their style, their identity; they have a very good team and there is a very nice atmosphere there».