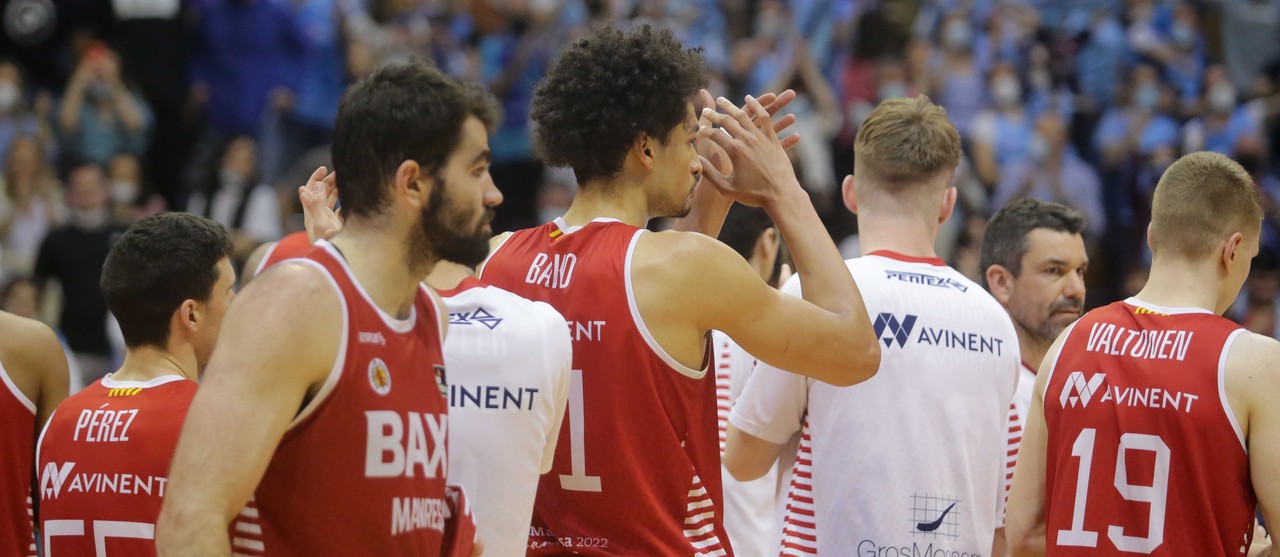 BAXI Manresa receives the difficult visit of UCAM Murcia at Congost
On Sunday, at 20:00, (M+Deportes1) the reds are looking for another victory at Manresa fortress, against a direct rival.
Saturday 16 of April of 2022 at 13:38
BAXI Manresa faces UCAM Murcia at Nou Congost. The game corresponds to Matchday 29 of Lliga Endesa. Murcia is in eighth place with a record of 15 wins and 13 losses, while the team from Bages is in third place with 18 wins and 10 losses. The first round match was close, but the Murcian team won (71-67).
After playing 2 games in less than 48 hours, certifying the pass to the BCL Final Four and losing against Río Breogán, BAXI Manresa ends a very intense Easter Week at Nou Congost. In front of its supporters, the team wants to add the 19th victory at the domestic competition. First, they will have to overcome UCAM Murcia, who is a complicated rival. Pedro Martínez is still missing Garcia and Jou. Francisco and Vaulet are suffering some problems from the last game and are doubtful for Sunday. Naspler is still in the first team dynamics.
UCAM Murcia, coached by Sito Alonso, is a solid and intense team. In Murcia roaster, there is a balance between players with long experience in the competition and players who are playing their first seasons, but who are performing at a high level. Also, Jordan Davis, who was a BAXI Manresa player in the 19-20 season. Statistically, of the Murcian team it is worth highlighting, Isaiah Taylor, who scores 16.9 points per game, and Augusto Lima with 8.3 points and 7.1 rebounds per game.