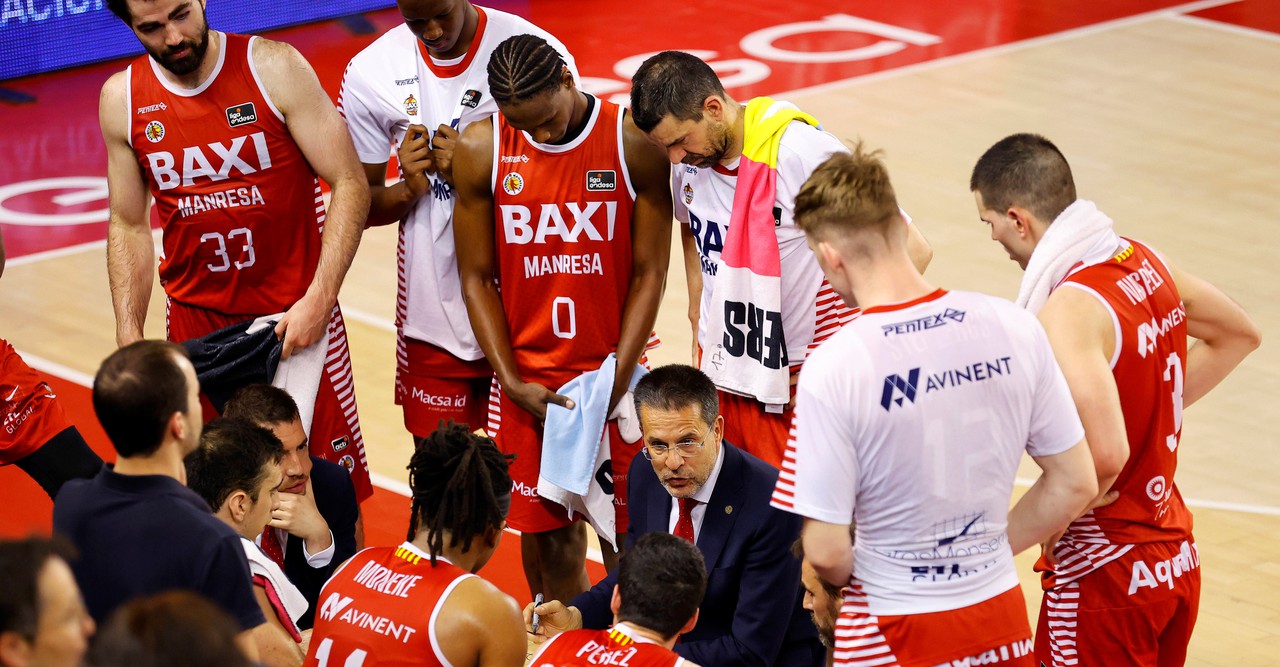 BAXI Manresa faces a big challenge: quarter-finals against Real Madrid
On Wednesday, from 21:00 (#Vamos), the reds, with Francisco recovered, will fight to try to take the first point of the quarter-finals at WiZink Center.
Tuesday 24 of May of 2022 at 13:05
BAXI Manresa visits Real Madrid court in the first quarter-final of the Liga Endesa play-offs. The team from Bages finished the regular season in seventh position with a record of 20 wins and 14 losses, while the team from Madrid finished second with 25 wins and 9 losses. This season, the two teams have met twice. In the first one, the whites, in a head-to-head final, won at Congost (87-92). In the second, Pedro Martínez's team, with a great team performance, won away (75-86).
The Bages team has had a week of training sessions to prepare for the tie and to recover players with physical problems. Despite the difficulty, Manresa face the challenge with the intention of continuing to compete as they have done all season. First, therefore, they will have to beat the current sub-champion of the Euroleague, who will want to certify the first victory of the series in front of their fans. Pedro Martínez has almost the entire squad available for Wednesday. However, he will be without Dani García and Guillem Jou, who are both out with long-term injuries.
Real Madrid, coached by Pablo Laso, is one of the most complete teams in Europe. The whites have all kinds of skills in their deep squad, made up of players of undoubted talent capable of changing the course of a game in a matter of moments. Of the Madrid team, it is undoubtedly worth mentioning their choral play. Statistically, therefore, it is worth highlighting the center Edy Tavares with 9.7 points and 6.9 rebounds per game. Also, power forward Guerschon Yabusele 11.3 points per game.
Before travelling to Madrid, Pedro Martínez appeared before the press. BAXI Manresa coach explained that «the break has been long, and we have not stopped training; we beat them in Madrid when they were in a bad moment; I think we will do things well, and let's see how far we can get; now it's about ambition, effort, mentality and competing at the highest level; we have to rebound, run, and defend well in direct blocking situations».