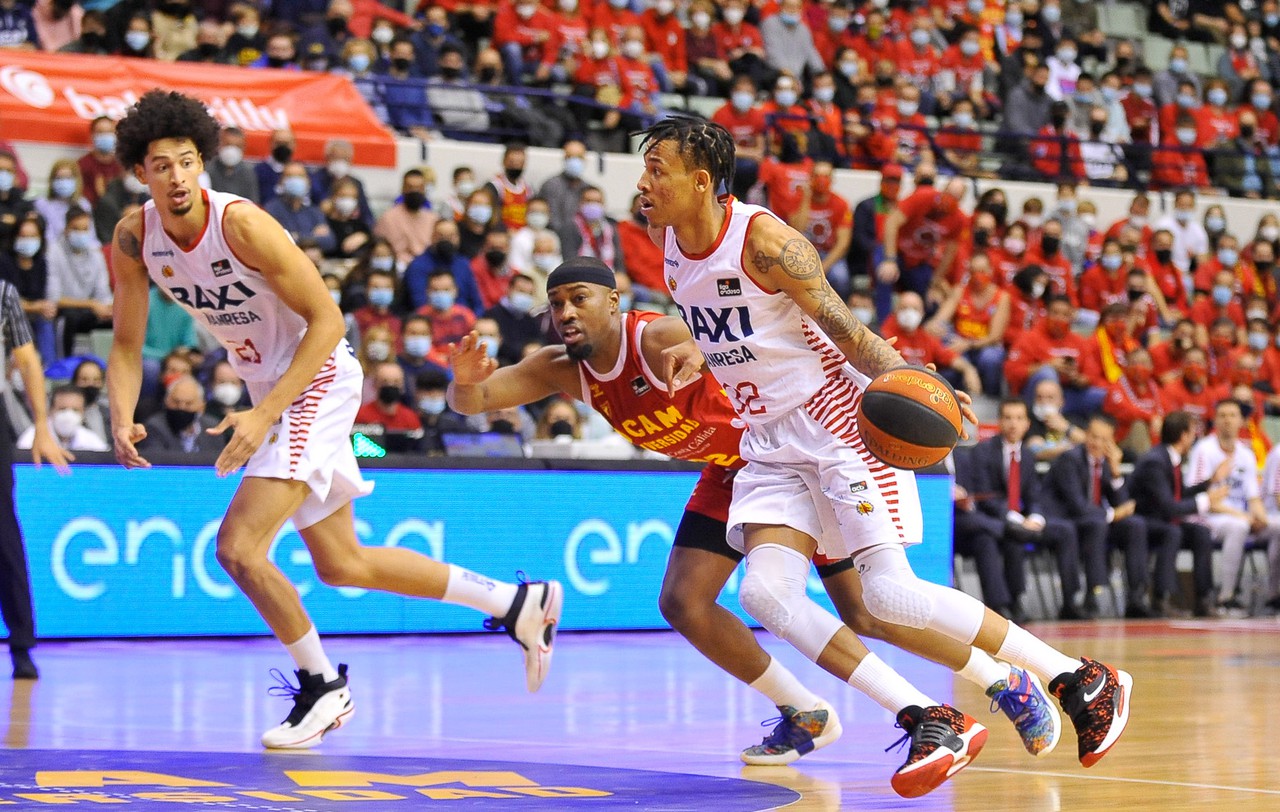 BAXI Manresa competes until the end in Murcia despite the missed shots
The Bages team showed character to overcome the adversities of a very physical duel and arrived in the last minutes with options against a very solid rival. Moneke (17p, 16r, 34 val) and Bako (18p, 8r, 20val) were again the team leaders.
Sunday 21 of November of 2021 at 21:09
71 UCAM Murcia I Taylor 8, Davis 7, Rojas 3, Webb 8 and Lima 6; Bellas 2, Malmanis, Radovic 17, McFadden 6, Cate 9 and Czerapowicz 5
67 BAXI Manresa I Francisco, Thomasson 14, Valtonen 3, Moneke 17 and Bako 18; Day 2, Dani Garcia 4, Rafa Martínez, Maye, Dani Pérez 3 and Sima 6
Partials: 14-8, 18-18, 23-24, 16-17
BAXI Manresa could not prolong the good streak of results and ended up falling on the complicated court of UCAM Murcia (71-67), in a match in which he was not very successful in the shot. However, the team showed its competitive nature and, led by a Moneke who finished with 17 points, 16 rebounds and 34 assists and a Bako who made 18, 8 and 20 respectively, was able to fight for triumph until the last moments.
The start of the match was very erratic on the part of both teams, and the first basket did not arrive until the fourth minute of play. Both sets showed their great physical level, with the defenses clearly prevailing in the attacks. In the last moments of the first quarter, the home team was more successful and reached a difference of six points (14-8).
In the second, Pedro Martínez's players did not find the right attack, and the Murcians took advantage to extend the lead to a maximum of sixteen points (32-16). However, between Moneke and Sima they led the Bages team who nailed a partial 0-10 to reach the break just six points below on the scoreboard (32-26).
In the second half the visitors made a good start and managed to turn the score around in the middle of the third quarter (39-40). From there, the duel entered a phase of equality, and reached the last ten minutes with five points margin for UCAM thanks to a Radovic's three-pointer over the horn (55-50).
Despite the lack of success, the Manresa team did not give up and tried to come back until the end, but the locals showed the reason for their good season, especially in front of their fans, staying solid and keeping some short differences that they ended up serving him to win.
Next week the BAXI Manresa will not have a game, due to the stop by the FIBA ​​windows, and the next commitment will be on Saturday 4 December, from 20:45 in the Nou Congost. Ahead will be another very tricky rival, a Lenovo Tenerife that is consolidating itself as one of the best teams in the competition.