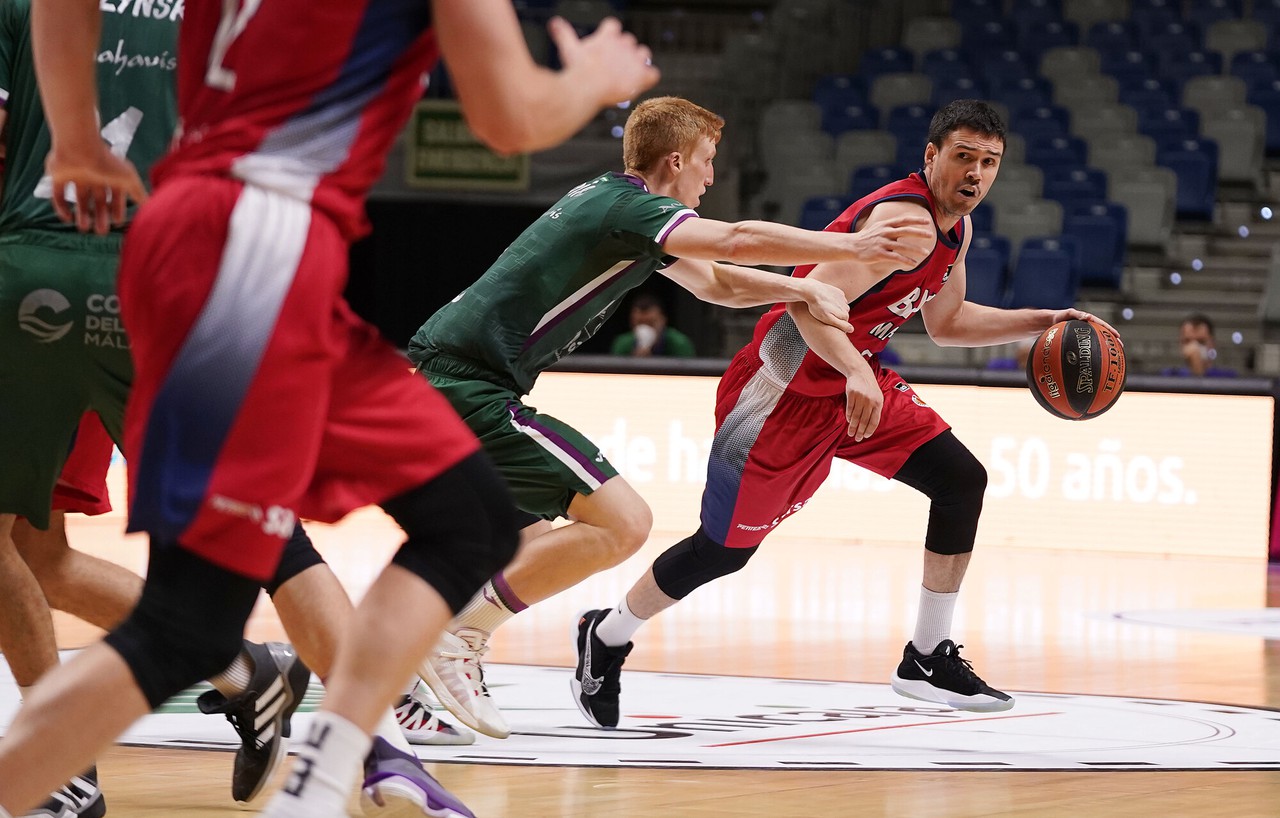 BAXI Manresa dominates from the start and overthrows Unicaja
The Bages team resisted the final push of the Malaga team and added the second victory (86-90).
Saturday 3 of October of 2020 at 23:56
86 Unicaja I Mekel 6, Alonso 8, Bouteille 14, Thompson 2 and Gerun; Brizuela 12, Díaz 8, Waczynski 6, Abromaitis 15, Guerrero 5, Nzosa 10 and Suárez
90 BAXI Manresa I Dani Pérez 13, Jou 16, Vaulet 4, Báez 2 and Eatherton 16; Mason 10, Hinrichs 4, Rafa Martínez 4, Tabu 17, Joesaar and Sima 4
Partials : 15-25, 19-23, 24-25, 28-17
BAXI Manresa took the second victory of the season, and did so on the complicated court of Unicaja de Málaga (86-90). Pedro Martínez's men played a great game and dominated from the start against a rival who reacted too late and it was not time to discuss his victory. On Saturday at 20:45 the Bages team will receive MoraBanc Andorra in the Nou Congost, where they will try to get the first win playing as the local team.
The reds came out on the court better than their opponent and, led by a very successful Eatherton, dominated at all times on the scoreboard thanks to the defense, the success in the shot and the dominance of the rebound. A Mason three-pointer, which was able to reappear, closed the first quarter with ten points margin for the visitors (15-25).
In the second the home team put the batteries and tied at 25 in less than two minutes. However, the Manresa team did not get nervous and responded with a 0-9. Then came Tabu, who led his team and closed the first half with a basket in the last second that put the Bages team with a comfortable margin at halftime (34-48).
In the second half the Reds continued to tone offensively, and this allowed them to take a maximum difference of eighteen points (46-64). The Andalusian team tried to react, but Pedro Martínez's players were solid and closed the third quarter with the duel quite well on track (58-73).
In the last ten minutes Mason and Tabu extended the visiting advantage from the three-point line (64-81). Unicaja then reacted and was able to place just four points with two minutes to go (84-88). However, the Manresa team managed to survive thanks to the good level of defense and safety in the free throws of Rafa Martínez, who did not shake his wrist and placed the final 86-90, as the last rival attacks did not they found basket.